Well-Known Member
Map Maker
Messages

1,389
Reaction score

958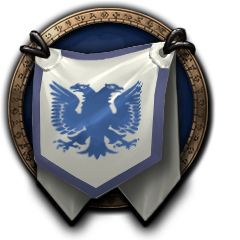 Light Blue is a faction that combines the gapless of L:TA's Dalaran and Argent Crusade. Light Blue starts the game with Theramore Isle as its capital, a formidable fortress with restricted access from both land and sea.
Theramore is only accessible from land by a single, narrow bridge. This, coupled with a strong gate means that a only a
small amount of defenders can hold the causeway
against overwhelming odds. On the other side of the isle, an open harbour allows for access by sea.
It is crucial that Light Blue be proactive and fight to secure its hold on Kalimdor quickly, as the
ogres of Stonemaul
may soon rise up under the command of their new chieftain, Rexxar, and LB may find itself penned in.
In order to counter such a threat, the Kingdom of Theramore has a set of strong, variable units that may help counter the
Ho
rd
e
in the early game, but prove inadequate as the game continues. Luckily LB has a number of allies and paths it may follow in order to significantly bolster its forces, both on land and sea.
While LB only starts with one hero,
Lady Jaina Proudmore
, she is an extremely powerful and able caster who may be instrumental in holding Kalimdor until your
Tirasian
allies arrive on its shores.
Kul'Tiras
also controls
Northwatch Keep
on LB's boards, allowing them a small foothold on Kalimdor in the early game, and providing an addition line of defence to Theramore. Be wary, however, for it will quickly become a target for the ogres of
Stonemaul
, as its strategic location is vital in maintaining a grasp on the mainland of Kalimdor.
As the game progresses, LB will have the option to contact its allies outside Theramore.
The Silver Covenant
is one such ally. High Elves led by
Vereesa Windrunner
are a full scale subpath, that gives LB a whole new tech tree of Elven units, some of which are alike to New Dalaran's casters in L:TA and provide huge support to LB's army.
Contacting the Silver Covenant is a perquisite for unlocking
New Dalaran
, on the shores of the Broken Isles. This late game addition to LB will grant them the city of New Dalaran, as well as buffing LB's elites, granting Jaina access to her special Mass Teleport as well as empowering LB's casters.
One other path that LB may follow is supporting the
Uncrowned
. This secretive organisation resides in New Dalaran and specialises in the arts of stealth and assassination. While this is not an entire subpath unto itself, it provides a gameplay change for LB by changing knights into powerful assassin units and adds a new hero, Jorach Ravenholdt, as well as a number of other new features, from new special pirate ships and a demi hero...
SILVER COVENANT/UNCROWNED/KIRIN TOR
​
LB's events and paths do not function in the same tiered manner of those of Horde's. They are not directly tied to each other and may be triggered independently. The Kirin Tor may be contacted before or after the Silver Convenant or the Uncrowned, but the initial events will change the outcome of the others. For example, if the Silver Covenant, is contacted before the Kirin Tor, the buildings of New Dalaran that spawn will be primarily Elven. The same applies, vice versa.